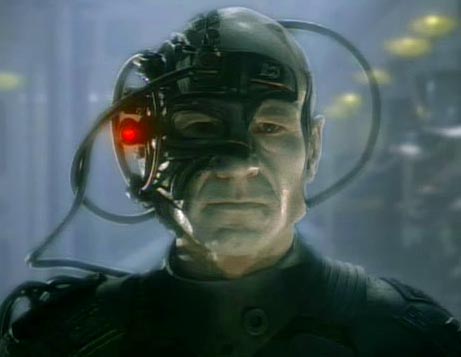 "I am Locutus of Borg.
Resistance is futile.
Your life, as it has been, is over.
From this time forward, you will service us."
As we have
previously reported
, there are serious concerns about City of Decatur's (CoD) plan to annex nearby commercial areas, and the aggressive pace of proceedings only adds to the tension.
While we wait for DeKalb County to
release its 2013 budget this week
, we hope to see a more concrete analysis of what this annexation might mean to the County and its unincorporated residents.
MANA
and
CHCA
members are reaching out to local legislators (both County and CoD) as well as to local business owners in an effort to better understand the justification of the annexation as well as potential financial effects.
Specifically, we are trying to study the changes triggered by annexation: when a given business is removed from unincorporated DeKalb and into CoD, where does the money go?
- how much money is removed from DeKalb's budget and transferred to City of Decatur's? What impact does that have on economies of scale, services, property taxes?
- what is the long-term impact of annexation?
- how is the DeKalb County School District budget impacted?
Timeline [thanks to Tanya Myers for collecting this information]

Per the December 3 City of Decatur work session, the timeline for annexation is as follows:
January – April, 2013:
General Assembly
considers and adopts local act authorizing referendum, if needed.*
November 5, 2013: Referendum is held, if needed.
December 15, 2013: Annexation is effective.
June 1, 2014: First Installment tax bills due.
August, 2014: School year begins
*The annexation report that Merriss presented talks more about the need for a resident's referendum:
"Based on the City Commission's objectives, public comment and a cost/benefit analysis, it is recommended that the City Commission consider asking the General Assembly to adopt legislation annexing the areas included in option A.3 and B.3 and annexing partial parcels where the majority of the existing lot is already within the city limits or where the residence is located in the city limits. A review of the Georgia Code sections applying to annexations indicates that a referendum is only required if the area to be annexed is more than 50 percent residential.
Because these two areas are significantly less than 50% residential, it appears that a referendum would not be required but it would be prudent to obtain the City Attorney's confirmation."
The Process and What Can We Do?
With City of Decatur having redrawn the proposed annexation lines, the approval process shifts to the General Assembly. We need to let our representatives know our concerns about the annexation plan.
(corner of McDonough and Trinity)
Lower level - City Commission Room
The DeKalb County Legislative Delegation of the Georgia House of Representatives will have three upcoming town hall meetings:

The purpose of these meetings is to discuss important issues and initiatives likely to come before the general assembly in the 2013 legislative session.
The delegation would also like to hear comments and concerns from their constituents as they prepare for the upcoming legislative session. All DeKalb County residents are strongly encouraged to attend.
Dec. 13 at 6:30 p.m. at Cross Keys High School 1626 N. Druid Hills Road, NE, Atlanta
Jan. 3, 2013 at 6 p.m. at the Maloof Auditorium, 1300 Commerce Drive, Decatur
Jan. 8, 2013 at 6:30 p.m. at the Porter Sanford Center, 3181 Rainbow Drive, Decatur
Jan. 10, 2013 at 6:00 pm at Agnes Scott College (Rebekah Scott Hall)141 East College Avenue, Decatur, GA 30030
The members of the DeKalb Delegation are:
Rep. Dar'shun Kendrick (D-Lithonia)
Rep. Pat Gardner (D-Atlanta)
Rep. Mike Jacobs (R-Atlanta)
Rep. Scott Holcomb (D-Atlanta)
Rep. Stacey Abrams (D-Atlanta)
Rep. Karla Drenner (D-Avondale Estates)
Rep. Billy Mitchell (D-Stone Mountain)
Rep. Simone Bell (D-Atlanta)
Rep. Tom Taylor (R-Dunwoody)
Rep. Mary Margaret Oliver (D-Decatur)
Rep. Michele Henson (D-Stone Mountain)
Rep. Ernest "Coach" Williams (D-Avondale Estates)
Rep. Howard Mosby (D-Atlanta)
Rep. Pam Stephenson (D-Atlanta)
Rep. Rahn Mayo (D-Decatur)
Rep. Dee Dawkins-Haigler (D-Lithonia)
Rep. Elect Tonya Anderson (D-Lithonia)
Rep. Elect Karen Bennett (D-Stone Mountain)